What is Teen Dating Violence?
Teen dating violence is a pattern of repeated actual or threatened acts that physically, emotionally, sexually, or verbally abuses a member of an unmarried couple between 13 and 19 years old.
Extreme jealousy
Controlling behavior
Quick involvement
Unpredictable mood swings
Alcohol and drug use
Explosive anger
Isolates you from friends and family
Uses force during an argument

Shows hypersensitivity
Believes in rigid sex roles
Blames others for his problems or feelings
Cruel to animals or children
Verbally abusive
Abused former partners
Threatens violence
If you are experiencing Teen Dating Violence you should:
Be safe; have an individual safety plan
Find support; Talk to someone you trust; you don't have to go through this alone
Document your abuse; date, time, incident, threats, injuries, witnesses, etc.
You have choices; talk to our Teen Dating Violence Coordinator
If you know someone who is experiencing Teen Dating Violence:
Be supportive; let her talk about her situation
It's not her fault; reassure her that she was not responsible for the assault
Contact us; we can provide support for you and her
Why does Teen Dating Violence happen?
Teen dating violence is influenced by how teenagers look at themselves and others.
Young men may believe:
They have the right to "control" their partner in any way necessary
"Masculinity" is physical aggressiveness
They should and can demand intimacy
They may love respect in their male peer groups if they are attentive and supportive towards their partner
Young women may believe:
They are responsible for solving problems in their relationships
Their partner's jealousy, possessiveness and even physical abuse is "romantic"
Abuse is "normal" because their friends are also being abused
They think they can "cure" the abusive partner
There is no one to ask for help
Teen dating violence often is hidden because teenagers typically:
Are inexperienced with dating relationships
Want independence from parents
Have romanticized views of love
Are pressured by peers to have dating relationships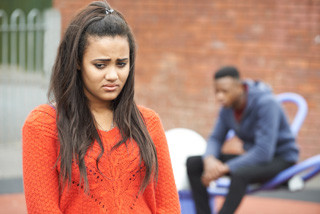 1-877-WE-HELP6
(1-877-934-3576)
Copyright 2021 Southside Survivor Response Center.